How to remove the Priority Scan SDS100
Questions about the SDS100
Common questions we receive about the Uniden SDS100 Scanner
How to I Turn Full database off
Menu
Set Scan selection
Select lists to monitor
Turn full database and search with scan off
Press the "System" key to go back to scanning
Yes, our programming was set up into favorites list so you can still use your full database when desired. After your done you would simply go in your scanner setting and turn the full database back off. Please see instructions below
Menu
Set Scan selection
Select lists to monitor
Turn full database and search with scan off
Press the "System" key to go back to scanning
Custom search is a mode the scanner can be set (Allows you
to search the scanners 10 programmed frequency ranges)
To disable Custom Search
Press Menu under "Search for…",
Then go to "Edit Custom".
Once you're in the "Select Custom" Menu, Set lock outs on
Custom1-10, this will disable all custom searches.
To enable Custom Search
Press Menu. Scroll to Search for... and press E/yes.
Scroll to Custom Search and press E/yes.
You can also start a Custom Search assigned to a QK by
holding on any Channel in Scan Mode and pressing Func then 1, 2, or 3.
To exit Custom Search press to Scan (soft key1).
Sometimes when scanning, the scanner will receive a channel, but you can only hear static. You would need to lock this channel out to continue with normal scanning.
For BCDX36hp and SDS models
To remove this channel double tap the "Avoid Key".

For the HomePatrol-2
Put the channel on hold, then tap the arrow on the
righthand side, and set lockout
Scanners are programmed using the database listed on Radioreference.com. We program (Police, Fire, EMS & State police channels). You can put the scanner on hold to dial through all the channels to confirm these are listed in the radio.
To disable "Close call", Press the menu button, and dial down to close call press down on the olume knob. Then dial down to "Set CC Mode". With "Off" Selected. Press down on the Volume knob. This will disable close call.
Frequencies used by public safety are subject to change at any time, A good example is when an area transitions to a digital system from analog.


If you aren't sure contact us
Website Chat service
877-568-7226.
Changes are listed on Radioreference, Each county has its own portion of the website. Chages are listed at the top of the respective county page under "Last Updated". If there
are recent changes listed for the channels your interested in re-programming is required. We offer several different programming options, you can find them isted here:


The SDS100 has the latest reception technology, making it the best suited to monitor all the current public safety radios systems, most specifically simulcasted radio systems. Additionally, it has a fully customizable color display, & water-resistant body style.
The "BT-953" (Smaller Battery) was discontinued after the initial release of the SDS100. A Larger battery "BT-954" is now included as has
been for serval years now.
The zip code featureonly allows for one zip code to be entered at a time, but the zip code function is used to tell the scanner which geographic region of the frequency database to enter-- it does not indicate the exact area to be scanned. For monitoring something like a tri-county area I strongly recommend the Optimization service as it tailors the scanner to a customer's local area rather than thousands of channels based on a geographic region.
DMR, PROVOICE & NXDN are individual digital Radio systems, the manufacturer gives you the option to unlock reception of these systems with the purchase of the software upgrades
No, unfortunately. A Windows PC is required for all Uniden scanners and the software they use.
SDS100 & SDS200: It's True I/Q™ receiver provides for improved digital performance in challenging RF environments.
An I/Q receiver captures the complete signal waveform in 3 dimensions, allowing for improved digital error correction and signal recovery. Location-Based Scanning – Allows you to set your location by zip/postal code or GPS coordinates for instant reception.
Handheld Scanners (BC125AT, SR30C, Homepatrol-2, BCD325P2, BCD436HP) Come with a USB cable for charging, however, an AC adapter doesn't come included. If you need one, you can purchase here: Click to View

The SDS100 comes with a USB charging cable and USB AC adapter.
Click on the extra items below for more details

Upgrade Keys
Antennas
Extra Options
Typically charging times may vary but are typically 8-14 hours, this information is listed in your owners manual.
USING INTERNAL BATTERIES
The SDS100 is powered by a Lithium Ion battery. When the scanner is turned on, the scanner does not charge the batteries.
When the scanner is turned off, the scanner will charge the batteries.
You can use external USB power to power the scanner while it is on.
However, the USB power source must be rated at 1A or greater to prevent battery drain during operation.
The included AC adapter is rated at 2A and can power or charge the SDS100.
The scanner's charge indicator is red during charge and green when complete.
Note: If the scanner gets too hot while charging, charging automatically stops.

VIEW THE BATTERY LEVEL

You can set a custom display area to show the battery voltage level. See "Customizing the
Display."


You can power the scanner by using the micro USB or a mini USB connector, but only the mini connector can be used for charging.
You charge the scanner's battery by connecting the scanner's USB mini connector ("Charge" port) to a USB power source and powering off the scanner.
The power source must be rated 1A or higher to charge at a full rate. It takes about 16 hours to fully charge the scanner with the 2000ma AC adapter supplied.
If you connect to a PC or other lower-power USB source, charging will take longer or may not even charge at all.
The red charging LED will appear to the right of the alert LED during charging and turn green when complete when the scanner is off.
The radio will charge and scan at the same time only with an adapter rated at 1000ma or more to prevent battery drain during operation.

Note: If the scanner gets too hot while charging, charging automatically stops.
Typically 6-8 hours on a full charge.
SDS100 & SDS200
both have IQ Scan Technology
Same System/frequency
Coverage Customizable
Color display Similar reception
Benefits of the
SDS100   
Water resistance Battery powered
Portable 
Benefits of the SDS200 
Larger Display
Larger speaker
Currently no scanners are able to monitor encrypted signals.
This range will vary based on your location, terrian, & local ransmitting towers. On average 30-50 Miles.
Comparing your radio to someone using broadcastify isn't a great comparison unfortunately. Broadcastify has 2-minute delay scanners play in real time. The end user broadcasting on broadcastify is using a scanner with specific programming and location. Essentially you would have to be in the same area, using the same scanner and programming to truly compare what you have to a broadcasifiy user.
Scanners aren't Bluetooth compatible, however, we've had customers use 3.5MM Bluetooth adapters to sync speakers and other Bluetooth devices to the radio.
Press then turn to adjust volume level in Scan Mode.
Press to view battery level.
Press Func then Vol turn to adjust the squelch.
Press to select a menu item or save an entry in Menu Mode.
Turn to select characters with Data Naming.
Turn to select Scan/Search direction and to continue Scan/Search in Scan/Search Modes.
Turn to scroll Channels or Frequencies in Hold Modes.
Turn in Department Pause to scroll Departments.
Turn in System Pause to scroll Systems.
Turn in Site Pause to scroll Sites in current system.
Turn in Search Pause to select Custom Searches to enable in Search Mode.
Turn to select next or previous recording in Replay Mode.
Turn to resume Close Call Search in Close Call Only Mode.
Turn to start a Quick Search in Close Call Hold Mode.
Turn to select next Weather Channel in Weather Scan.
Turn to select Tone-Outs in Tone-out Standby Mode.


Side Menu Button


Press to enter Menu Mode.
Press to return one level in Menu Mode.
Press Func then Menu for Search Menu in Search Mode.
Press Func then Menu for Close Call Menu in Close Call Mode.
Press Func then Menu for Weather Menu in Weather Scan.


Side Function Button


Press to enter Function Mode for 3 seconds.
Our programming services include all towns, cities, municipalities within the county you requested for public safety channels such as Police, Fire, Ems, and state police. The scanner does have service type options in the radio so they can be turned on and off when desired. So, for example if you only wanted to hear Fire and EMS for the day you would turn all other service types of such as Law and only leave the ones you want on. Also keep in mind if there are any channels you completely do not want you can permanently avoid them by double tapping the avoid button on your scanner
• AC Adapter
• USB Cable
• Hand Strap
• MicroSD Card (installed)
• Larger Battery Pack
• SMA-BNC Antenna Adapter
• SMA type Antenna
• Belt Clip
• Printed Material


*SHIPS WITH NEW LARGER BATTERY
Depth: 1.5 in x Width: 2.5 in x Height: 6.0 in
Weight: 10.6 oz
Uniden SDS100 Digital Police Scanner
$649.99
Regular price
Unit price

/

per
SKU: SDS100
Uniden Expert Programming
True I/Q Receiver, Trunk Tracker X
Complete USA/Canada Radio Database
Location Control for Simple Operation
3.5" Customizable Color Display
Ships with new larger battery
Uniden Custom Programmers will add county programming to your scanner.  We remove the guesswork, tedium, and frustration from from manually programming your scanner for your area. Our programming department will preload your selected county/counties public safety frequencies so all you have to do is turn it on.
Your scanner will work right out of the box!
View the full product details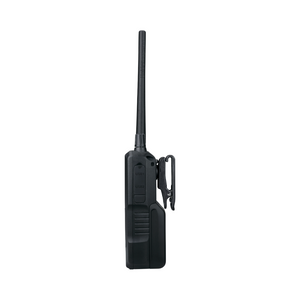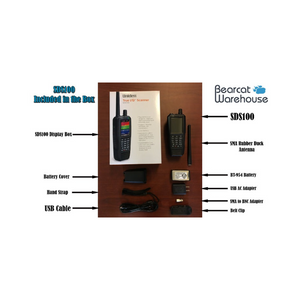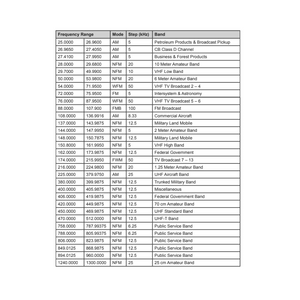 Select another Uniden Scanner
WHICH SCANNER WILL WORK IN MY AREA?
Our Uniden experts will provide you with the best choices for your area.